We are offering this powerful data analytics and processing software as a single site license.
Keep reading to learn more about Seeq and what it can do for real-time data collaboration and improving overall efficiencies within your organization.
What is Seeq?
The ability to rapidly analyze and distribute insights and data in order to improve business and production results is the reason for all the current hype around machine learning and predictive analytics.
What's currently missing in the industry, however, are the real-time, simple, and effectively applied solutions to these existing data analytic problems.
Seeq addresses all of these issues, and more, for your organization. Seeq is the first application dedicated to process data analytics.
How does Seeq work?
Utilizing Seeq, you are able to:
search your data

add context

cleanse

model

find patterns

establish boundaries

monitor assets

collaborate in real time

and interact with time series data like never before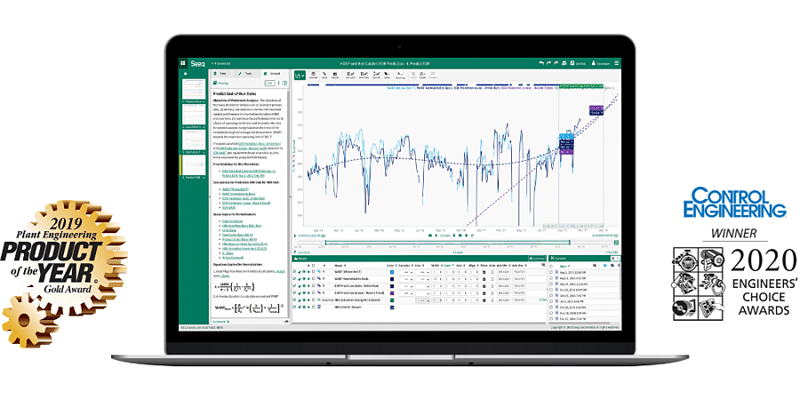 Seeq allows you to leverage innovations in big data, machine learning, and web technologies, by delivering easy to use features for your users and supports all phases of analytics from cleansing to reporting.
What types of Process Historians does Seeq integrate or work with?
Seeq can connect and integrate seamlessly within minutes with the following process historian software:
the OSIsoft® PI System®

Honeywell's Uniformance® PHD

Emerson DeltaV and Ovation

Inductive Automation's Ignition

AspenTech IP.21

Wonderware

GE Proficy

or any other on the market
InCentrik's Partnership with SEEQ
InCentrik's partnerships with OSIsoft and Seeq allow us to provide our clients with advanced analytics solutions that are critical to their operations.
Through the partnerships, we can harness diagnostic and predictive analytics to enable greater operational efficiency and deeper insight.
See how you can accelerate continuous improvement to your operations with advanced analytics.
InCentrik and Seeq are ready to save your organization money and time by offering a way to track actionable insights into your data in just minutes. The solution works for any process manufacturer with time-series data in historians or other storage platforms.
Leveraging innovations in big data, machine learning, and web technologies, Seeq delivers easy-to-use features for your users and supports all phases of analytics from cleansing to reporting.
Optimize the value of your data
We're ready to help your organization optimize the value of your data.
The benefit of data-based decisions, faster time to insights, and advanced analytics have never been more important. Together, we can help customers get the most from their data.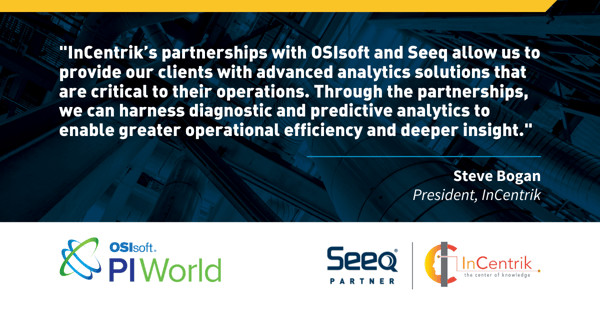 What does a Single Site License give me access to?
Through InCentrik, a single site license gives your organization access to the Seeq Workbench and Seeq Organizer software along with one entire week of remote training and support.
The single site license also includes:
Unlimited users

Access to standard data sources

Technical Product Support

Six 1 hour follow up office sessions with partner, customer and Seeq AE

On premise, in customer's cloud, or SaaS
What types of companies does Seeq work best with?
A good prospect for the Seeq software usually falls within the following categories but it isn't necessary to get started:
Single site with an estimated 20-50 users of Seeq

Interested in advanced analytics with access to standard data sources

Reasonably technically savvy with 5+ clearly defined use cases

Has a Seeq/advanced analytics internal champion that wants to demonstrate value quickly for broader initiatives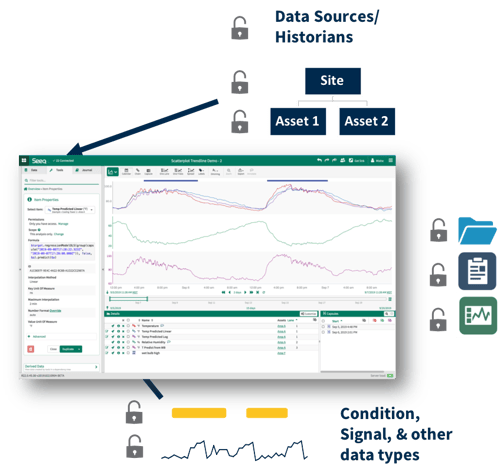 Want to Learn More about Seeq's software or receive up to a 50% discount!
Interested in the 50% discount or live demo of the Seeq software? Contact us!
Learn how to receive a 50% discount or schedule a live demo today!
---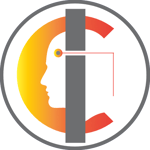 Leading the digital transformation in the manufacturing industry. We bring our customers value through automation, integration and intelligence. We bridge the gap between what really goes on in your plant and the decision-making power you hold as an executive.
At InCentrik we automate our customers process systems, integrate our customer's data (from any data source), make data available to everyone, and we bring intelligence to the data in order for our customers to work more efficiently. Checkout our Smart Apps including the Crisis Communication App and SmartHub OEE.