OSISoft has announced that they are phasing out of PI Processbook, and they will no longer continue to provide security updates for Processbook in 2022, so we're outlining the migration process over to PI Vision.
If you're going to be leveling up to PI Vision, InCentrik has your PI Vision migration covered from start to finish. We have a roadmap to get you through the process with accuracy and simplicity.
Experience Next-Level Visualization with Pi Vision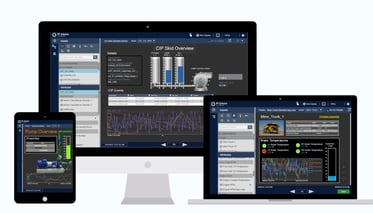 PI Vision allows for collaborative displays to be created to help companies share information and encourage collaboration.
Users can also gain insights into the data with other web applications through combining PI Vision screens from different sources in one place!
The Migration Roadmap
InCentrik's digital roadmap guides you through each step, making sure the migration is seamless.
Planning
The planning stage lays out the foundational basis of the migration, making sure the process is properly outlined before moving forward. We meet to establish a baseline footing and make sure we are aligning expectations and identifying key aspects of the migration such as the work environment, user responsibilities, etc.
Installation
After the planning phase, we install and set up the program, or update to the latest version if that is necessary. Having everything in order from the planning phase helps to avoid any problems during installation, keeping the migration moving smoothly.
Migration
Next, we gather the information that is needed to complete the process and organization the information before the running the migration.
Training & Rollout
All personnel who will be users of PI Vision will commence training in this stage, where we identify your unique needs and make enhancements where needed so we make sure the execution and application of PI Vision are adequately laid out.
Support
Lastly, we provide continual support by answering your questions and addressing ongoing issues, making sure that the migration was a success and that your organization can continue to leverage PI Vision to regularly improve and move towards organizational goals and objectives.
Other Important Features of Pi Vision:
Security
All of your users will have secure access to whatever data they need with no special software on the user's machine. PI Vision utilizes Windows Integrated Security as used by the PI System, and PI maintains security improvements by relocating data off the control network and lowering the total user count on the control network.
Keep Up with the Latest Technology
Migrating to PI Vision gives you the advantage of keeping up with PI's newest standards so your software doesn't become obsolete. All Processbook displays need to migrate to PI Vision because support for Processbook will phase out soon, so it makes sense to do so now rather than wait until later and risk having problems in the future.
Access PI System Data From Anywhere
A huge benefit of migrating over to PI Vision is that you can access and procure PI System data easily from anywhere on any device with PI Vision.
PI Vision supports mobile browsers with customized views for smaller screens, and the majority of ProcessBooks will be kept in the new format, so your data won't be lost in migration.
Ready to Migrate?
When you're ready to take the next step forward with you PI Processbook to PI Vision migration, we are equipped to assist your migration to make the shift simple and smooth.
Click below so we can get started!
---

Leading the digital transformation in the manufacturing industry. We bring our customers value through automation, integration, data management, and business intelligence. We bridge the gap between what really goes on in your plant and the decision-making power you hold as an executive.
At InCentrik we automate our customers process systems, manage our customer's data (from any data source), make data available to everyone, and we bring business intelligence to the data in order for our customers to work more efficiently and dive into the new era of Industry 4.0. Checkout our Smart Apps including the Crisis Communication App, SmartHub and SmartHub Apps OEE, Shift, PI, Rounds, and Permits.